Process: Mural in Lisbon, Portugal
Art residency with Lost Collective in Lisbon, Portugal.
Last June, I spent some time in Lisbon.
(If you didn't know me before this post, you might want to know that Lisbon holds a special place in my heart. Its the city where I had a creative awakening if you will in the fall of 2016. While I've been studying/practicing art since the age of 8, it wasn't until living in Lisbon that I recognized that I need to create.)
Watch video Timelapse
After 12 hours of travel from, a bus from Oxford to the London airport, a flight delay, many sketches, a closed subway and a taxi, we had arrived: Lost Lisbon Cais House in the heart of Lisbon. I'll tell you what sleeping that night felt magical. I needed to rest, because the next day I'd be painting and exploring.
Concept: Sketches
As I sketched away in the London airport, my best friend and I having experienced life for a couple of days in Iceland and some in London, I was full of new ideas. Since last November I've been making abstract studies & marks of how things and people move. Why? Because I'm using the word movement as a metaphor for change. Change can sometimes be an easy and normal part of life, but I find that it's mostly difficult, and we forget to celebrate the beauty in the difficult process of adapting to change.
While the marks resembled the rocks I saw in Iceland or buildings I saw in London, I wanted to show a little bit of the city where the mural would be. Lisbon is a city surrounded by water, and I believe this influences the kindness and friendliness found amongst the Portuguese, something I wanted to capture in my mural.
The shapes were to represent the movement of water. They also contained jagged movements/marks, as the once I had just seen in Iceland. After 7 concepts I chose one based on a sketch I made in Iceland.
Supplies& Adapting to place
I had originally chosen less vibrant colors, yet when purchasing supplies I was limited in terms of color.
I chose water-based spray paints and paint markers as an ode to the amazing street artists that have filled up the streets in Lisbon. It was my first time using these supplies, but I loved it. The water base allowed me to add bold marks with the brushes I had while covering large areas of the wall. I used thin paint markers (also water based) which gave me quicker control for the lines I create to add details and compositional balance. I normally use fine brushes for these kinds of marks, but given that I had a limited amount of time and was painting on a wall I opted for the markers.
The colors ended up reflecting the colors of the historic center of Lisbon, which was perfect as the mural, located in Lost Lisbon Chiado Guest House sits in the heart of the city.
Muito obrigada Lost Collective for supporting International artists and being an agent in keeping Lisbon vibrant.
Result: "Movimiento: Olas"
As always eu tenho saudades de Lisboa (which means I really really miss it) but for now I keep creating more in Tegucigalpa.
Heart Portraits Collection, Nashville Series, 24"x 36"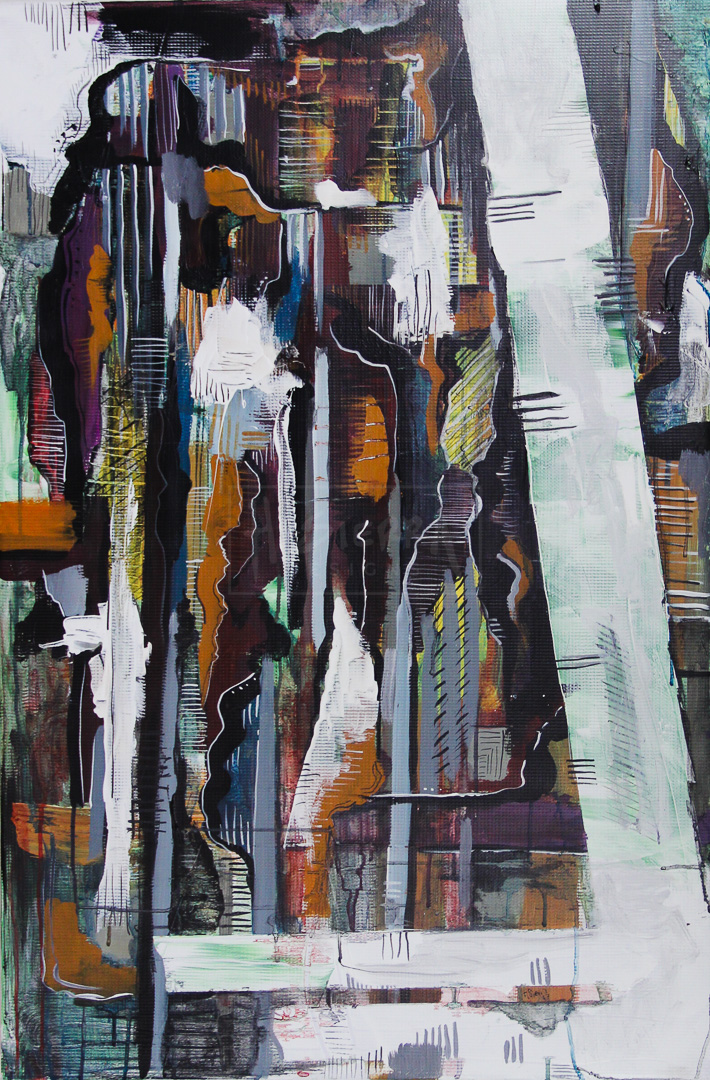 Heart Portraits Collection, Tegucigalpa Series, 24"x 36"
If you are in Europe and are interested in my paintings, there are 2 paintings are available for sale in Lisbon and ready to be shipped.
Travel Guide
While I've now been to Lisbon 3 times, some trips for longer than others, it feels like home when I arrive.
If you would like my updated travel guide send me an email: info@helgasierra.com
For now here's some of my favorite tourist pictures from the trip.
Thanks for reading along
If you have questions about available paintings, my process, or would like to set up an appointment, send me an email at: info@helgasierra.com